NCBVA Bulletin April 2005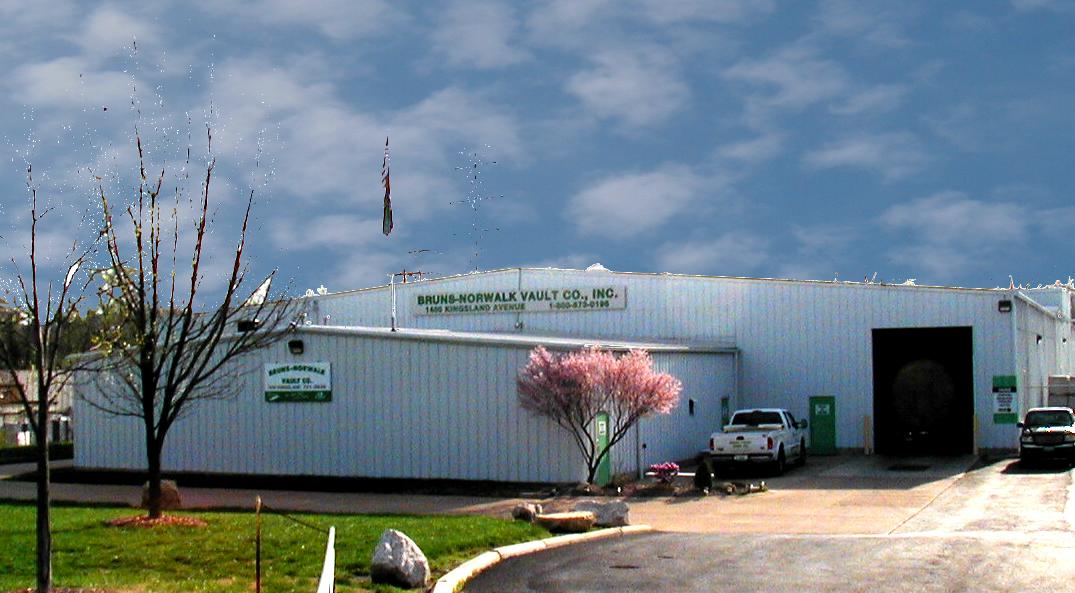 Bruns-Doric SuperSizes Quality And Service
A family business
A family business that was started in 1929 as a way to survive the Depression has now grown into its fourth generation. Much of the company's success over the years has been the family managers' focus on personal service, and their ability to capitalize on trends in American lifestyles.
For example, the population's expanding girth that can be attributed to fast food living and "SuperSizing" has presented a challenge to the burial vault industry: the need for oversized burial vaults. Instead of scrambling every time an oversized vault is needed, the owners of Bruns-Doric Vault Company of St. Louis decided to expand its stock of oversized vaults.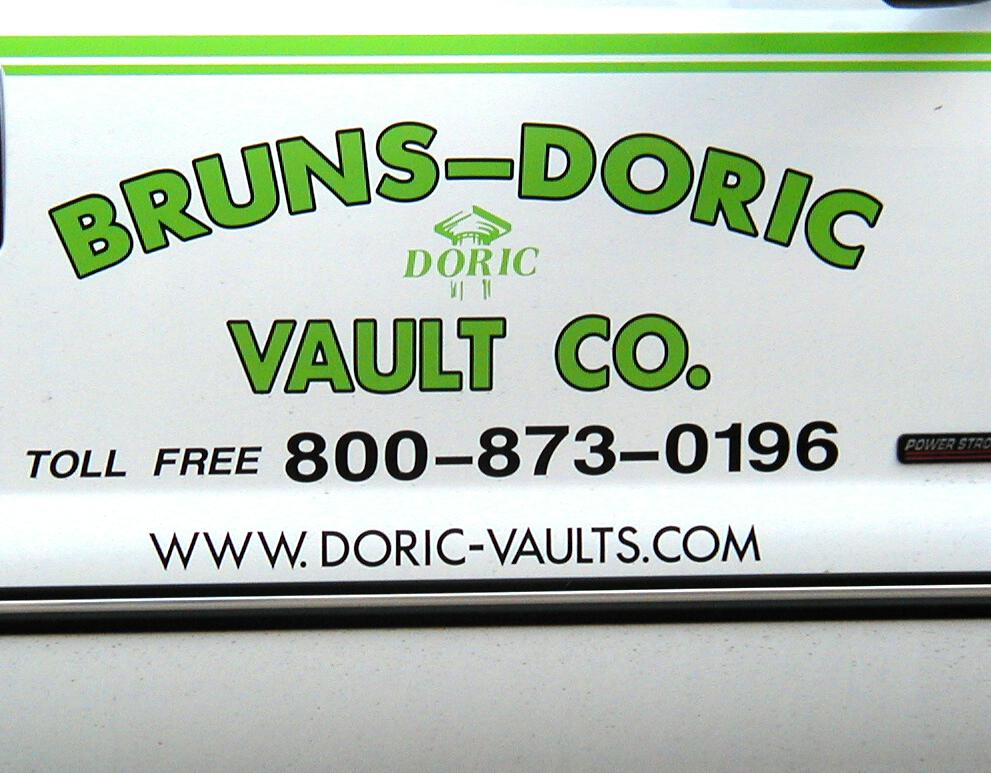 "We probably have the largest selection of oversized vaults in the country," says Ed Bruns, President. "To be successful in any business, one must address the need that's there. We carry at least 150 oversized vaults in stock in a variety of models at all times, and are happy to provide these vaults to other burial vault companies and funeral homes, We ship quite a few oversized vaults out of state."
Ed says that vaults are available in sizes up to 48-in. wide. The company owns all its oversize molds. .
The Cremation Challenge
Some burial vault companies are threatened by the growing trend of cremation, but this is another area in which Bruns-Doric has chosen to turn into a positive one for the company.
"Year's ago when cremation first started growing in popularity," Ed comments, "it was because of economics. Today, however, people are choosing cremation because that's what they want to do. The economics, in most cases, is not a factor, To give family and friends more of a sense of closure when a loved one dies and is cremated, we are able to work with the funeral homes and do a complete presentation of the cremains at graves side­ just like a traditional funeral."
Bruns-Doric carries a wide selection of cremation urns, vaults, lower devices and stands. The presentation ceremony includes sealing the vault and lowering it into the burial place. Ed says he's noted an increase in cremation urns and vaults over the past two years, with a tremendous surge in the last six months. ­
A Doric Franchise
Bruns-Doric is a Doric franchise and produces about 4,000 burial vaults a year at its two plants-one in St. Louis and the other location, Bruns-Doric Vault Company in Cuba, MO, located 80 miles west of St. Louis. The company also distributes Clark metal vaults.
An NCB VA member for many years, Ed is very adamant about the importance of the certification program. "I think Bruns-Doric is the only certified plant within an 80-mile radius. Non-certified products many times are not up to standard, and when they come back because of poor quality, it hurts all of us," Ed states.
Ed believes one of the biggest challenges to the industry is to educate the public on the importance of a burial vault. "The burial vault is often a forgotten thing," Ed comments. "We've got to work with funeral directors and cemeteries to make sure our products are emphasized."
Another challenge is finding quality people as employees who will be instrumental in helping retain business. "We don't want to be the biggest," Ed states. "We just want to be the best." Currently, Bruns-Doric has 18 employees-in its two locations, many of which have been with the company for a long time and some over 30 years. "Customers appreciate dealing with people they are familiar with and confident in their work and skills. This gives the customer a high level of trust not only in products, but service as well."
Providing exceptional service is very important to Ed and his wife, Diane. Phone calls to the company are answered personally on a 24-hour-a-day basis. There is no answering service. "When the customer needs us, we're there," says Ed. "My father impressed upon me that image is everything. The tone that's set by the person who answers your phone gives the customer an idea of what your business is like."
Ed also believes in having clean and well-kept buildings, and in 1990 he had the company's entire fleet of trucks painted in a unique green and white. "It's like branding in advertising," Ed says. "When people see a certain color, they will think of your business. Since we did the painting of the trucks, you'd be surprised at the number of people who have called on us because they want to do business with the company that has those green trucks."
Facing the Future
Keeping it in the family ensures that quality stays a high priority. The Bruns' only son, Joel, has been working for the company for eight years now. After 35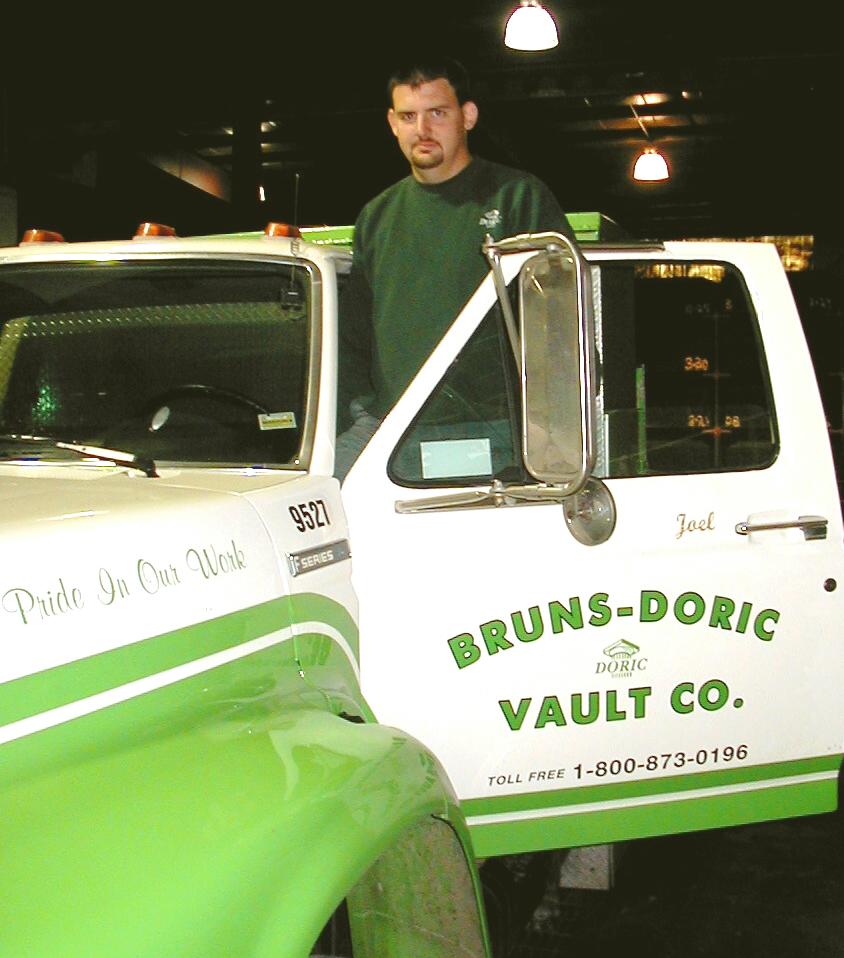 years in the business, Ed and Diane feel free to take more time away from the plant and are starting to travel more. Naturally, some of their vacations involve combining business and relaxation, such as attending the NCBVA convention in Hawaii.
The couple has two grandchildren. A recent grandson is the first boy in 50 years on the maternal side of the family, and their 19-month-old granddaughter is the first girl in 50 years on the paternal side. The Bruns have pur­chased some land in the middle of the state and plan to retire there some day.
In the meantime, the company is determined in dealing directly with funeral homes and cemeteries. "We can't limit ourselves to funeral homes," says Ed. "If we ignore the cemeteries, they will produce their own vaults. That brings us back to the issue of non-certified products. Quality and good service must be placed ahead, of volume."
This is the philosophy that has guided the company for four generations, through trends such as cremation and "SuperSizing." It's a philosophy that obviously works.
Written by Sylvia Heidemann, NCBVA Staff Writer
*Since this article we have had a name change. Our name was Bruns-Norwalk Vault Company, Inc. but now it is Bruns-Doric Vault Company, Inc. Just another sign of the growth going on at our company. The people are the same and the quality of service is too.